March 5, 2013
XENON GIVES BACK TO THE COMMUNITY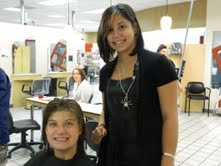 Giving Back to Our Community
At Xenon International, we know that giving back to the community is important. We teach our students that the skills  they have are more valuable than money when it comes to helping those in need. The self-esteem that comes from feeling good about the way you look is invaluable. As cosmetologists we can make someone feel special and beautiful with a new hairstyle.
Every year at Xenon inDenverwe volunteer our time and talents to help build self-esteem, and the important life skills of grooming and hair care to  developmentally disabled residents of Well springs. It is so amazing to see their smiles when they get a new haircut and style and learn how to care for their hair.
Last year Xenon teamed up with the Aurora Housing Authority. The students collected clothing donations and did make overs on women returning to the work force.  "The students did an amazing job collecting clothing, and it was heartwarming to see these women with their new hairstyles, fill shopping bags with clothing to start their new lives." Patricia Westra, Denver Campus director said. "I was so proud of the students and what they gained from the experience."  Student Noelani Spears summed it up best by saying "The reason I chose Xenon is because of the things they do to give back to the community."
We are so proud of our students not only for their  talents but for their compassion and giving spirit.